Genre
: Paranormal Romance
Series:
Dark Swan, Book 1
Copyright:
2008
Pages:
361
Rating:
4 Crowns
Book Description:
Just typical. No love life to speak of for months, then all at once, every horny creature in the Otherworld wants to get in your pants...
Eugenie Markham is a powerful shaman who does a brisk trade banishing spirits and fey who cross into the mortal world. Mercenary, yes, but a girl's got to eat. Her most recent case, however, is enough to ruin her appetite. Hired to find a teenager who has been taken to the Otherworld, Eugenie comes face to face with a startling prophecy--one that uncovers dark secrets about her past and claims that Eugenie's first-born will threaten the future of the world as she knows it.
Now Eugenie is a hot target for every ambitious demon and Otherworldy ne'er-do-well, and the ones who don't want to knock her up want her dead. Eugenie handles a Glock as smoothly as she wields a wand, but she needs some formidable allies for a job like this. She finds them in Dorian, a seductive fairy king with a taste for bondage, and Kiyo, a gorgeous shape-shifter who redefines animal attraction. But with enemies growing bolder and time running out, Eugenie realizes that the greatest danger is yet to come, and it lies in the dark powers that are stirring to life within her...
Review:
Eugenie Markham is a powerful Shaman who banishes otherworldly creatures from our world for hire. She sends these fey, or gentry, back to their realm or to the underworld, if they're too annoying. Things suddenly change and Eugenie finds herself being propositioned and attacked (at the same time) by the gentry – not to mention they know her real name and things she did not know bout herself. These new revelations force her to realise that the world isn't as she's always believed it to be. The gentry she has always been fighting against may just be her only source of answers.
This was an amazing read. You know its Richelle Mead from the moment in begins. Storm Born is the first in Richelle Mead's Dark Swan series. Just like in the VA series, Storm Born has multifaceted characters you're not sure whether to like or to throw a book at. Mead really has this ability to make the heroines really annoying towards the beginning..I almost didn't read this one cause Eugenie got on my nerves, but then it got better.. a whole lot better...and I'm glad I stuck it out.
There are two love interests in this book, and with only book one to go by, I'm not sure where the story will lead or who is better for Eugenie. There's the sexy kitsune fox shape-shifter Kiyo, and the fey King Dorian who gets very serious about his elaborate rope work. While I wouldn't want to sway your opinion on who's the better guy, let me just say that I'm offering to keep Dorian if Eugenie doesn't want him.
The other characters in the book are pretty well drawn out too. There's Tim, the fake Native American and Will, a paranoid conspiracy theorist…but best of all, there's Volusian the ghost who was kinda like Eugenie's voice of reason and at the same time wanted to kill her and constantly reminded her so in very elaborate words.
The world building in this book is great and easy to follow. The story has a good pace, and a riveting enough ending that you'll want to have the second book in hand when this one is done. This was one of those books where I ended up having a character debate with myself on the motivations of the different characters in this book. Eugenie at times seemed like she was controlled by those around her (although she does manage to hold her own pretty well) Kiyo and Dorian, and just about everyone in the book actually seems to have their own agenda, and its fascinating wondering how it will all end. I count this as one of the author's talents; you don't usually come across books where there are so many shades of grey.
Go ahead and get a copy of this book, especially if you are an Urban Fantasy fan. But do remember to have book 2, Thorn Queen, at hand.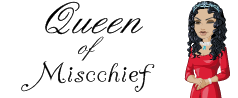 Visit Karyn at her blog
Slip Carefully