Genre:
Historical Romance
Copyright:
2008
Pages:
371
Rating:
5 Crowns
Synopsis:
From exotic sandstone palaces...
Sick of tragedy, done with rebellion, Emmaline Martin vows to settle quietly into British Indian society. But when the pillars of privilege topple, her fiancé's betrayal leaves Emma no choice. She must turn for help to the one man whom she should not trust, but cannot resist: Julian Sinclair, the dangerous and dazzling heir to the Duke of Auburn.
To the marble halls of London...
In London, they toast Sinclair with champagne. In India, they call him a traitor. Cynical and impatient with both worlds, Julian has never imagined that the place he might belong is in the embrace of a woman with a reluctant laugh and haunted eyes. But in a time of terrible darkness, he and Emma will discover that love itself can be perilous -- and that a single decision can alter one's life forever.
Destiny follows wherever you run.
A lifetime of grief later, in a cold London spring, Emma and Julian must finally confront the truth: no matter how hard one tries to deny it, some pasts cannot be disowned...and some passions never die.
Review:
This book started with a bang--the ship carrying her to India to meet her fiance was just lost to sea, along with her parents. Emma was the only survivor, hanging on to an overturned boat for dear life. Then, the book fast forward to a ball in Delhi celebrating Marcus (her fiance) and Emma's engagement. Here was where she met the "half-breed," rakish hero Julian Sinclair, the Duke of Auburn.
Emma was alone in the world, having lost her parents in the shipwreck and with her fiance's betrayal, she was trapped in India in the midst of a rebellion growing between the English and the Indian natives. She was able to escape the craziness of Delhi with the help of Julian. Yet despite the growing turmoil around them, Emma and Julian feel an intense attraction towards one another that quickly grew into love. She and Julian were able to elude the Indian army but with the war continuing to spread, Julian felt it was his duty to act as the liaison between the two warring sides. They got separated and lost each other for four years. They met again in London, but they were not the same people they were in India. Can they rekindle their love?
Despite the explosive prologue, I thought the book was a bit slow in the beginning but the action does pick up and I was caught in the story. Both Emma and Julian were complex characters as they were both emotionally scarred both from the war and their past. Julian was a dark, sexy, tormented hero, caught between two worlds. Emma was an independent woman of her time, a talented painter but was deeply affected by the lost of her parents and her experiences in the war. However, she was not afraid of letting out her feelings and tells it like it is without being a witch about it, which I really like. I thought the secondary characters were also well-developed, although the villain did fell a little flat towards the end.
This book is Ms. Duran's debut novel but she definitely knows her stuff. She writes like a veteran author with creating a hero and heroine that have many layers and the language of the book expressive in a way that you feel like you are experiencing India yourself through Emma's eyes. I felt for both Julian and Emma and rooted for their love and happy ending. This historical is dark, edgy and different from other historicals I've recently read. I think you'll like it even if you're not into historical romance. I highly recommend it and give it 5 out of 5 crowns.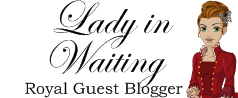 Visit Michelle at her blog
Michelle and Leslie's Book Picks.