Genre:
Historical Fiction
Copyright:
2006

Pages:
672
Rating:
5 Crowns
Book Synopsis:
AN UNFORGETTABLE HEROINE, A KING MISUNDERSTOOD BY HISTORY, A LOVE STORY THAT HAS NEVER BEEN TOLD.

A Rose for the Crown, we meet one of history's alleged villains through the eyes of a captivating new heroine -- the woman who was the mother of his illegitimate children, a woman who loved him for who he really was, no matter what the cost to herself. As Kate Haute moves from her peasant roots to the luxurious palaces of England, her path is inextricably intertwined with that of Richard, Duke of Gloucester, later King Richard III. Although they could never marry, their young passion grows into a love that sustains them through war, personal tragedy, and the dangerous heights of political triumph. Anne Easter Smith's impeccable research provides the backbone of an engrossing and vibrant debut from a major new historical novelist.
Book Review:
A Rose for the Crown is a beautifully written and well told story set in a fantastic historical background. This is first and foremost a work of fiction about a made up character (Anne's description) that has been interwoven with historical facts. It is such a well thought out story and it is my favourite kind of historical fiction. In my opinion, books like this bring history to life. This book is full of wonderful characters and I loved reading their stories!
Kate leaves her family home at a tender age to live with her cousin as a companion. There she learns a lot about herbs and healing and becomes best friends with her cousin. Kate is married off to an older man that fortunately doesn't live to long and then she marry's for love, or does she? But the man that she would give her heart to completely and no other is Richard, Duke of Gloucester. Over time she would give him three children, two of them sons.
This is novel takes us to the end of the Yorkist period and into the Tudor raine. It is an excellent account of history blended perfectly with fiction. I loved the way Richard of York, the final York King was portrayed as a compassionate and noble man. I highly recommend this wonderful historical novel!
Anne Easter Smith
has written three historical books the most recent being The King's Grace and prior to that, Daughter of York. Anne's next book is due to be published in the fall of 2010.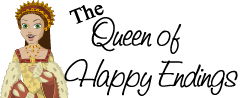 Visit Alaine at her blog
The Queen of Happy Endings