Genre:
Historical
Copyright:
2009
Pages:
581
Rating:
5 Crowns
Book Synopsis:
The bestselling author of A Rose for the Crown and Daughter of York takes a young woman that history noticed only once and sets her on a quest for the truth about the murder of two boys and a man who claims to be king.

All that history knows of Grace Plantagenet is that she was an illegitimate daughter of Edward IV and one of two attendants aboard the funeral barge of his widowed queen. Thus, she was half sister of the famous young princes, who—when this story begins in 1485—had been housed in the Tower by their uncle, Richard III, and are presumed dead.

But in the 1490s, a young man appears at the courts of Europe claiming to be Richard, duke of York, the younger of the boys, and seeking to claim his rightful throne from England's first Tudor king, Henry VII. But is this man who he says he is? Or is he Perkin Warbeck, a puppet of Margaret of York, duchess of Burgundy, who is determined to regain the crown for her York family? Grace Plantagenet finds herself in the midst of one of English history's greatest mysteries. If she can discover the fate of the princes and the true identity of Perkin Warbeck, perhaps she will find her own place in her family.
Book Review:
I have really enjoyed all of Anne Easter Smith's historical fiction novels. Since reading all three of the books I have gained a much deeper understanding of the Yorks, Lancasters and Tudors. This was a gap in my knowledge of British history so I'm glad I have a better picture in my mind.
Grace Plantagenet is the bastard daughter of Edward Plantagenet and Grace is used as the storyteller for the beginning of the Tudor reign. For most of her life she grew up in the company of her cousins and Edward's Queen. She is a faithful, gentle and loving daughter to her step mother and they form a close bond. Grace is with her in her final days and promises to find out if one of her sons (the two princes in the tower) is still alive.
This promise puts Grace in conflict with her half sister the Queen as she is married to their families enemy. It even had her banished from court for a few years, causing long separations from her husband who was in the service of the King's maternal uncle. There is no doubt that this book gives the reader the concept of fear of King Henry VII through Grace's eyes and a better understanding of why Henry VIII turned out the way he did.
The thing I really liked about reading all three of these books is that they tie into each other, obviously it is the same family but various stories are weaved together to give you a clearer picture and deeper understanding. Although the mystery of the two princes in the tower and what happened to them will, I fear, remain an unsolved historical mystery.
I absolutely loved Anne Easter Smith's historical fictions and I highly recommend them to any lover of this genre. Anne's next book is due to be published in the fall of 2010. Check Anne's
website
for details.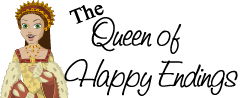 Visit Alaine at her blog
The Queen of Happy Endings