Characters with Quirky Names!
I've been known to pick some weird names for my characters in the Jane Jameson series. Jettie Belle, Dick Cheney, Jolene. And people have asked where the heck I come up with them. So I thought I'd provide a helpful key glossary of explanations.
Jane Jameson:
I wanted Jane to be an everygirl. She's a plain Jane. She's a little shy and a lot neurotic. And I knew I wanted her to have an alliterative name like the comic book heroes: Peter Parker, Lois Lane, Clark Kent. And I used Jameson because it allowed Dick Cheney to make a joke on their first meeting that said a lot about his personality and sort of set the tone for their whole relationship. This is a family blog, I probably shouldn't go into it here.
Gabriel Nightingale:
Gabriel is Jane's savior, so I wanted to name him after an archangel. And yes, I do realize I misspelled Nightingale. I just like it better that way. And Nightengale was a nice dark counterpoint to Adam Morrow, the boy that captured Jane's heart in high school. Get it, Nightengale vs. Morrow. Night vs. Day. I'm not one for subtlety.
Dick Cheney: For some reason, it just struck me as funny to have a vampire named Dick Cheney. He's been Dick Cheney for more than 100 years and all of the sudden this Republican politican comes along and the late-night hosts start making jokes about heart attacks and accidental shootings. Poor guy. Dick is my favorite character. I love all of my characters, but he's just so much fun to write for. He gets all the best lines.
Zeb Lavelle: Zeb is my sister's middle name. My sister, Manda, is one of my closest friends and I wanted to honor her. Also, it's a family name. Manda was named after our great-grandmother. And as much as we loved her, both Manda and I agreed that we weren't naming our kids, "Zeb." So this was a way to pass the name along without actually passing it along to another generation. And my favorite character on Buffy, Xander's, middle name was Lavelle.
Jolene McClaine: Jolene the werewolf comes sweeping into Jane's life and basically steals her best friend. So I got Jolene from the Dolly Parton song, "Jolene, Don't Take My Man Just Because You Can." Jane doesn't have romantic interest in Zeb, but she still feels threatened by Jolene. And McClaine is from Die Hard, my favorite action movie. Hey, I have layers.
Jettie Belle Early:
Jettie Belle was a many-times great relative on my mom's side whom I'm said to resemble. Really, you put the pictures of us next to each other and it's uncanny. So there you have it, a little window into my rationale. I hope that helps!
mollyharper.com


Giveaway Alert !

To celebrate Vampire week I'm giving away a copy of Molly's latest release, Nice Girls Don't Date Dead Men. All you have to do is leave a comment on the blog this week & make sure you leave your email address. The more comments you leave... the more entries you have :]!

Good Luck!!!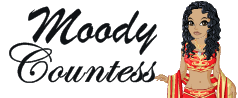 Visit Diane @ blog
The Book Resort