Book Blurb
:
The House of Night series is set in a world very much like our own, except in 16-year-old Zoey Redbird's world, vampires have always existed. In this first book in the series, Zoey enters the House of Night, a school where, after having undergone the Change, she will train to become an adult vampire - that is, if she makes it through the Change. Not all of those who are chosen do. It's tough to begin a new life, away from her parents and friends, and on top of that, Zoey finds she is no average fledgling. She has been Marked as special by the vampire Goddess, Nyx. But she is not the only fledgling at the House of Night with special powers. When she discovers that the leader of the Dark Daughters, the school's most elite club, is misusing her Goddess-given gifts, Zoey must look deep within herself for the courage to embrace her destiny - with a little help from her new vampire friends.
Book Review:
It took me quite a while to get into this audio book. The way in which this vampire world works is different to anything I've read but I liked it and that's probably the only reason I continued listening. I think I was over half way through the listening before I'd decided I would listen to the next one.
This is very much a young adult fantasy, although personally I wouldn't let anyone under 15 read it, but that's just me. The book contains the most annoying teenage behaviour that I've read which took me a while to get used to. However, once I got used to it I enjoyed it and understood it was an important aspect of the story.
The vampire world in this book works differently to the usual 'bitten philosophy'. Zoe was at school when she saw a man walk up to her and mark her. This began a sequence of events which draw the reader in to the emotional life of Zoe and I thought it was very well done. The process of turning into a vampire once you've been marked is a slow one and while teenagers are changing they are sent to the House of Night school, which is the setting for most of the book.
I love the relationship that Zoe has with her Grandma, who has been Zoe's main support person since her Mother re-married. Zoe quickly makes friends at the House of Night who she bonds with. There is of course a very hot guy as well, just to make the story interesting and it will be good to see how this relationship evolves.
All in all this was a good audio book and I'm looking forward to listening to the next book. There are lots of unanswered questions that make me want to read the next book sooner rather than later. I'd recommend this book to lovers of YA vampire fantasy. If you're thinking about getting it for your daughter I would recommend reading it first if they're under 15 as there is a fair amount of explicit sexual discussion and innuendo.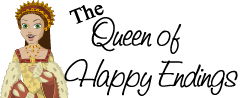 Visit Alaine at her blog
The Queen of Happy Endings