Series:
Night Huntress Book 1

Genre:
Urban Fantasy

Copyright:
2007

Pages:
358

Rating:

Book Blurb:

Flirting with the grave...
Half-vampire Catherine Crawfield is going after the undead with a vengeance, hoping that one of these deadbeats is her father--the one responsible for ruining her mother's life. Then she's captured by Bones, a vampire bounty hunter, and is forced into an unholy partnership. In exchange for finding her father, Cat agrees to train with the sexy night stalker until her battle reflexes are as sharp as his fangs. She's amazed she doesn't end up as his dinner--are there actually good vampires? Pretty soon Bones will have her convinced that being half-dead doesn't have to be all bad. But before she can enjoy her new found status as kick-ass demon hunter, Cat and Bones are pursued by a group of killers. Now Cat will have to choose a side . . . and Bones is turning out to be as tempting as any man with a heartbeat -
www.jeanienefrost.com
Review:
Marry me Bones?? I kid you not I've found a new leading man in the hottest vampire popularity stakes. I cannot believe how long I've waited to start this series (what was I thinking) and I'm now devising ways to inhale the rest of the series so I'm up-to-date with all the Cat & Bones action!
This is one action packed ride as we follow Cat from lone amateur vampire slayer to kick-ass partnership with master vampire Bones. But Halfway to the Grave has so much more than action, this urban fantasy has plenty of laugh out loud moments, hilarious one-liners, a big helping of romance & quite a few steamy scenes where I was seriously at risk of self combustion.
Cat isn't your typical heroine, and I loved that about her; she's moody, brooding, sarcastic, wields a mean stake and has a tough outer shell shielding a vulnerabilty that's believable. Cat doesn't really fit in to either of the world's that have produced her and the complicated relationship with her mother stems mainly from her mother's hatred of all things 'vampire' including Cat's half 'dark' side.
"I'm saying that I'm a moody, insecure, narrow-minded, jealous, borderline homicidal bitch, and I want you to promise me that you're okay with that, because it's who I am, and you're what I need." ..."Would you mind repeating that?" he said at last, another emotion replacing the strain on his face. "I'm afraid I might have lost my wits altogether and just hallucinated what I've longed to hear."
Bones, *sigh* hot, hot, sexy, leather-clad Bones. Tough, protective, romantic when it counts, sexy British accent & irreverant, sarcastic humour. The scenes where Bones trains Cat not to react to 'dirty-talk' are seriously blushworthy and if your heart isn't racing when Cat & Bones get it on, then you must be dead. I love the fact that it's the hero trying to get the heroine to accept and embrace her vampire side instead of the other way around & I absolutely adore the tender but humourous dialogue between Bones & Cat
"Let's go, Kitten, before you kill someone else." "How about I let you floss with my jugular as well?"
Another *sigh*, did I mention I love Bones ...
So if you're like me and a little late getting on the Cat & Bones' bandwagon, take my advice and wait no longer. This is without doubt a new favourite series for me, Jeaniene Frost is uber awesome and she guarantees readers who stick with the series, will see Cat & Bones get a HEA. I'll leave you with these final words from Bones:
"If you run from me, I'll chase you. And I'll find you."
ooh please!
Visit Jeaniene Frost's (yes that is her real name) terrific
website
&
blog
to find out more about this author and her work.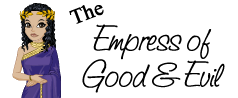 Visit Teddyree at her blog The Eclectic Reader