Series
: 3rd Book of The Masters Of Time Series
1st Book in The Rose Trilogy
Genre
: Paranormal Romance
Copyright:
2008
Pages:
370
Heat Rating:
Scorcher
Rating:


BOOK DESCRIPTION
:
A Highland warrior sworn to protect Innocence throughout the ages… Aidan, the Wolf of Awe, has abandoned the Brotherhood and forsaken his vows. Feared by all and trusted by none, he hunts alone, seeking vengeance against the evil that destroyed his son. He has not saved an Innocent in sixty-six years--until he hears Brianna Rose's scream of terror across centuries, and leaps to modern-day Manhattan to rescue her…
Her Seduction... His Salvation.

Brie spends her time fighting evil from the safety of her laptop—and fantasizing about the medieval Highlander she met just once. She is also a gifted empath. Still, her life is pretty ordinary—until she awakens one night consumed with Aidan's pain and rage—which she is feeling across centuries! And when Aidan suddenly appears in the city and takes her hostage, Brie cannot believe how dark and dangerous he has become. She knows she should be afraid, but instead, she will fight across time for his redemption… and his love.
My Review:

DARK EMBRACE is the third instalment in The Masters Of Times Series. It also happens to be the first book in The Rose Trilogy where we meet again Brianna Rose(Brie) and her cousins Tabitha and Samantha Rose. All of them powerful witches in their own right. All helping and protecting innocent IN their own special way.

Brianne Rose feels more comfortable hiding behind baggy non-descriptive cloths, glasses and her pc then being around people. Brie is more of a lover than a fighter in the fact she will give the shirt off her back to any one who needs it. This time it is the debunked Master of Time Aidan , the Wolf who unexpectedly garners Bries help. Secretly, Brie has loved Aidan from the thirty second she had met him when he was helping her friend Allie trying to get back to Royce.

Now, Brie sees a little boys spirit calling out for her help. She begins to research and discovers that Aidan's young son had been kidnapped. Alon the line of research she discover that the once aligned Master of the Brotherhood has forsaken his calling. Now she will try everything she can to heal Aidan and reunite him with the son he believes dead.

What torture is this Aidan, the Wolf wonders as he rescues Brianne Rose from the clutches of death. Demons and the cry of the innocent is drawing back into a world he has long forgotten. Long forsaken. For where were the Masters when his evil-incarnate-demon father Moray kidnapped Ian. Now he hunts through time, desperate crying out like a lone animal desperate for the release of his tormented soul. But now the bright eyed empathy is touching not only his soul but slowly healing his heart. But Aidan can never deter from the cause that has kept him sleepless nights of revenge and the thought that Ian might still be alive. No matter how Brie chips away at Aidan's heart he will never surrender to the pull and sexual attraction to this beautiful waif of a woman. For his fate and path are set and he will not be swayed.

DARK EMBRACE took this reader by surprise. In fact, when we meet Adan he is o longer jovial, life of the party, man who seduces a thousand women at once. No, we find the dethroned Master stripped to his very core. No longer caring if he lives or dies. His pain is so intense that as a reader I wasn't really certain that by Ms. Joyce breaking Aidan down so thoroughly to be almost soulless that she would be able to bring him back up again. Well, I was wrong. Ms. Joyce is an expert in the field of tormented souls, clueless heroes and men that need a good woman to help rebuild their faith in man kind.

At first I wasn't to sure about the pairing of mild-mannered-meek-geek Brianne Rose and Devastating, heart stealing drop dead gorgeous highland hottie Aidan. But as the story goes on unveiling bits and pieces you come to realizes that the two are more alike than any one would believe. I found Aidan and Brie to be raw to the bone characters with infectious gullibility that far reached any misunderstanding I might have taken at the start of the book.

As always, a good writer will make you forget that it's a book your reading as you begin to care for the characters as if they are family. Reader, that's exactly what happened to me as I rooted for Aidan and Brie to over come misgivings and trust their hearts to now that in the end it was truly embracing who they are as a couple that made them a dynamic couple to read and learn about.

Thank you readers for letting me spend this time with you and showing you three brilliantly matched couples that traveled through time, space and found the one true person that was meant for them.


HAPPY READING!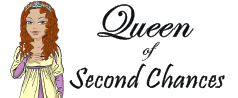 Visit Christine at her blog
Romantic Crush Junkies