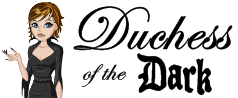 aka Lexie from Poisoned Rationality
Hello all! My name is Lexie, aka Duchess of the Dark, and I'm here to take your souls! Though I'm fairly certain that the Queen won't let me take a random commenter's soul..Er...that is to say I'm here to be a permanent reviewer for Royal Reviews along with all these other lovely ladies! I read a whole slew of genres--from fantasy to young adult to paranormal and romance--but tend to enjoy fantasies that have a more bittersweet ending a whole lot more. You know not the ones where Evil necessarily triumphs...but where the good guys are dealt hearty blows to their self-confidence and morale. After all if the win comes too easily you'll just repeat the mistakes of the past. Don't get me wrong I love a HEA romance like the next romance reader, but sometimes well...I've always been more of a dark chocolate gal to a milk chocolate you know?

Anyhow...over at my personal blog, Poisoned Rationality, I review a whole different set of books then what you'll see me reviewing over here. One or two might be the same, but hey if a book is good why not double-expose it right? Also I have monthly Readathons where I'll choose an author or series with a new book due out at the end of the month and then re-read the books before it--Rachel Caine, Maria V. Snyder, Sabrina Jeffries and Linnea Sinclair are my past authors with Richelle Mead, Shobhan Bantwal, Kristin Landon and Jennifer Rardin coming up this summer!

So I hope I can do a good job and that you'll allow me to steal your soul--er...help you find a book or two you might like!
Review of Evermore by Alyson Noel
Genre: Young Adult Paranormal
Copyright: 2009
Pages: 301


Synopsis: Since a horrible accident claimed the lives of her family, sixteen-year-old Ever can see auras, hear people's thoughts, and know a person's life story by touch. Going out of her way to shield herself from human contact to suppress her abilities has branded her as a freak at her new high school—but everything changes when she meets Damen Auguste…

Ever sees Damen and feels an instant recognition. He is gorgeous, exotic and wealthy, and he holds many secrets. Damen is able to make things appear and disappear, he always seems to know what she's thinking—and he's the only one who can silence the noise and the random energy in her head. She doesn't know who he really is—or what he is. Damen equal parts light and darkness, and he belongs to an enchanted new world where no one ever dies.

Review: To be fair I thought this was another teen vampire romance. I have heard about this book for a number of months (since October at least) from other bloggers, though I've avoided reviews so that I didn't have any preconceptions, and I can understand why. Even though this is aimed for a teen market, the author doesn't dumb down the concepts or 'reality' of anyone's situation. Damen is far from perfect (despite how he presents himself) and Ever is clearly damaged more then she wishes to acknowledge.

But then so is everyone else around them. From Ever's best friends Haven (who attends anonymous addict meetings of all sorts to get the attention and love she can't from her self-absorbed family) and Miles (Mr. Gay and Proud of it theater man) to the social bullies (Stacia Miller, the leader, Miss Teen Perfection with more dirty laundry then a laundry mat), no one is perfect. And for Ever that is less of a reassuring concept and more of a distress because she can't even pretend that they might be.

I was relieved to see that Ever wasn't the sort to just be a push over when it came to Damen either. He messes up, a lot, and makes a scramble of things, a lot, and Ever calls him on it. Unfortunately for him he suffers the misconception of thinking that Ever is perfect--he acknowledges the trauma of the past and her inability to move on from it, but he holds this static image of her in his head that doesn't evolve until closer to the end when things become apparent that he overlooked.

The only complaint I have is with Haven. From an outsider's perspective she doesn't seem like a good friend at all. Or rather she's fine as long as Ever remains an anti-social misfit hiding inside an oversized hoodie, but when Ever makes strides towards coming out of the bubble she becomes catty, jealous and angry. As if its a betrayal of some sort. I felt bad for Ever because it was obvious she wanted to make Haven happy, but by being herself it just made Haven angry.