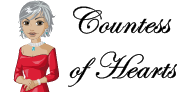 aka J. Kaye from J. Kaye's Book Blog
The Countess reads a variety of genres, but her favorites are stories of love and romance. Whether it's a racy erotica, an innocent first love, or a tragic love story, she ♥hearts♥ them all. When she isn't reading them, she's busy making up her own stories of love and passion.

While the Countess has no favorite authors, Kathleen E. Woodiwiss is who opened the door to this genre. Ashes in the Wind, Shanna, Wolf and the Dove, The Flame and the Flower are some of her most memorable books.
Review - Perfect Chemistry by Simone Elkeles:


Genre: Young Adult Romance

Copyright: 2008

Pages: 368

Rating:





Simone Elkeles has created a pair of memorable characters in her book PERFECT CHEMISTRY. Brittany Ellis wears perfect clothes, has a perfect boy friend, and a perfect life or so that's what it seems to the outside world. She works overtime to keep up this image. In reality, her world is falling apart.

Meet Alejandro "Alex" Fuentes, a member of the Bloods, a lethal Latino gang. His image of being tough means everything. That's what the two have in common. Neither one is as they appear. They might not have had this chance to discover this if not for being paired up in chemistry class of their senior year. The forced togetherness and Brittany's need to make a perfect grade was the bond at the beginning, but soon they discovered there an attraction between them.

Some parts of book actually made me forget I was reading. I became so wrapped up in their lives. The author took just as much time with the supporting characters. Paco and the bathroom scene at the wedding was one not to be missed. I could actually smell the aftermath! If you enjoy YA and especially if you enjoy a YA love story, this is an amazing tale.