Genre:
Historical
Copyright:
2007
Pages:
416
Rating:
4/5 Crowns
Book Synopsis:
Born into poverty and raised in a brothel, Nell Gwynne sells oranges in the pit at London's King's Theater, newly reopened after the plague and the Great Fire devastated the city. Soon, her quick sense of humor and natural charm get her noticed by those who have the means to make her life easier. But the street-smart Nell knows a woman doesn't get ahead by selling her body. Through talent, charm, intelligence, and sheer determination—as well as a keen understanding of how the world operates—Nell works her way out of the pit and onto the stage to become the leading comedic actress of the day. Her skills and beauty quickly win the attention of all of London—eventually even catching the eye of King Charles II. Their attraction is as real as it is unlikely, and the scrappy orange girl with the pretty face and the quick wit soon finds herself plunged into the confusing and dangerous world of the court, where she learns there are few she can trust—and many whom she cannot turn her back on.

From the gritty streets of seventeenth-century London, to the backstage glamour of its theaters, to the glittering court of Charles II, The Perfect Royal Mistress is a love story for the ages, the rags-to-riches tale of a truly remarkable heroine.
Book Review:
This really is a remarkable Cinderella story from an amazing story-teller. To watch Nell start with absolutely nothing and rise to become the favourite of the royal mistresses to Charles II is incredible to say the least. I fell in love with this gutsy heroine for her attitude towards life and her ability to use humour to cope with the many difficulties she faced. We could certainly all do with a dose of that in our lives! What a refreshing character.
On the subject of being the King's mistress though, I do have to say that after finishing this book, I have come to the conclusion that Charles II was undoubtedly a man whore. There's just no pretty way to say it - he chased everything that moved and I wouldn't be surprised if what he really died from was a sexually transmitted disease. That man could not keep his hands to himself (and bravo to Diane for writing about it!) This is the second novel I've read about him and both authors certainly painted the same picture of him.
Having said that, the author really does illuminate the complexities of the King and (from what I know) stays true to what is known about him accurately. I really enjoyed the intricate natures of both the main characters and it is certainly a story I'd like to revisit again at some point. Diane Haeger really knows how to bring history to life and make it relevant to the modern reader. If you were morbidly fascinated by Henry VIII and want to read about another English King who pushed the envelope of propriety then you can't go past this book.
Giveaway Alert!

Diane's latest novel,
The Queen's Mistake
has just been released and to celebrate we are giving it away this month on Royal Reviews. Leave a comment telling us your favourite Diane Haeger book and be a follower and you could win a copy of this book. Winner will be announced on the Sunday Post, November 29.
Book Synopsis: From the author of The Secret Bride, the tragic tale of the fifth wife of Henry VIII…

When the young and beautiful Catherine Howard becomes the fifth wife of the fifty-year-old King Henry VIII, she seems to be on top of the world. Yet her reign is destined to be brief and heartbreaking, as she is forced to do battle with enemies far more powerful and calculating than she could have ever anticipated in a court where one wrong move could mean her undoing. Wanting only love, Catherine is compelled to deny her heart's desire in favor of her family's ambition. But in so doing, she unwittingly gives those who sought to bring her down a most effective weapon—her own romantic past.

The Queen's Mistake is the tragic tale of one passionate and idealistic woman who struggles to negotiate the intrigue of the court and the yearnings of her heart.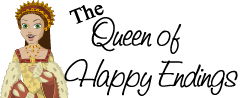 Visit Alaine at her blog
The Queen of Happy Endings